Flood Damage Cleanup and Restoration, Structural Drying Services in Staten Island, NY
Why choose Joe Kielbasa's Flood Service for your Staten Island Flood Damage Restoration Company?
24/7 service – call us and you will always talk to the owner immediately
At your door within an hour
Servicing the island since 1986
We're located on the island, so we can get there faster
Direct insurance billing
Personalized service from beginning to end
Small, family owned company that treats you like one of our own
Free estimates
We accept cash, credit and checks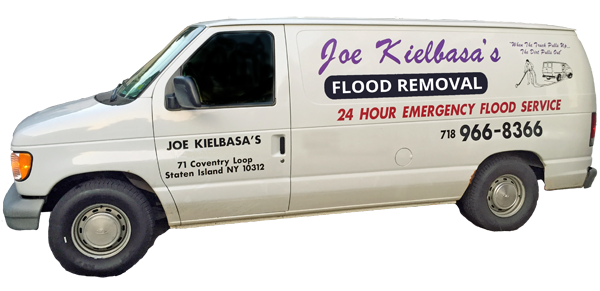 If if you have a flooded house or commercial business, the building must be dried out properly.
Joe Kielbasa's Emergency Flood Service can be on-site within an hour to help get the appropriate equipment set to dry out your walls, flooring and ceilings and completely clean up any flood water damage.
We Have Moisture Testing Equipment
Even the smallest amount of moisture trapped in walls, ceilings or flooring may not be detectible by touch and can wreak havoc on the internal components of your home. Mold can grow, wood can rot and wires can corrode. Save yourself costly repairs by having us properly test for moisture and ensure your structure is actually dry.
Structural Drying
Fast drying through the use of dehumidifiers and air movers is vital for halting the damaging effects of water and moisture laden air during water damage restoration.
Generating super dry air through the use of dehumidifiers and directing that air with powerful air movers pulls the moisture out of structural materials, hastening their drying.
The dehumidifiers also prevent secondary damage to areas that weren't originally affected by the water.
High moisture levels in the air can cause peeling paint, warped building materials, and the growth of mold even in non-flooded areas.
Drying wet structural materials and removing excessive moisture from the air is very important for limiting the damage during water damage clean up after broken pipe water damage, frozen pipe water damage, leaky pipes, toilet or sink, bathtub overflow, or flood damage caused by a refrigerator, washing machine, water heater, heating system humidifier, air conditioning condensation unit or dishwasher.
Water Damage Repair
Once the structure has been tested by a water damage specialist to ensure that it is completely dry, the materials damaged by the water damage can be repaired to get things back to normal.
Typically, a water damage remediation company will have removed baseboards and cut the sheet rock one foot up to aid in the drying of the wall cavities.
Wet carpet and padding will have been removed. Damaged sheetrock in the ceiling that may have sagged and broken from retaining water will have to be repaired. And any items permanently damaged from water will have to be replaced.