Brooklyn, New York Flood Services
Dealing with a basement flood or other water damage? In Brooklyn, count on the expert professionals nearby at Joe Kielbasa's Flood Service. We're a 24 hour emergency water damage restoration service provider that can help get the water out, IMMEDIATELY. We have specialized water extraction and water damage removal equipment that manages to help dry your carpet, flooring or drywall immediately. In business since 1986, Kielbasa's is family owned and provides personalized flood services , not "packages" with things you don't need. We're happy to bill your insurance directly, and have worked with many local agents and insurers.
24/7 service – call us and you will always talk to the owner immediately
At your door within an hour
Servicing the Brooklyn area since 1986
Direct insurance billing
Personalized service from beginning to end
Small, family owned company that treats you like one of our own
Free estimates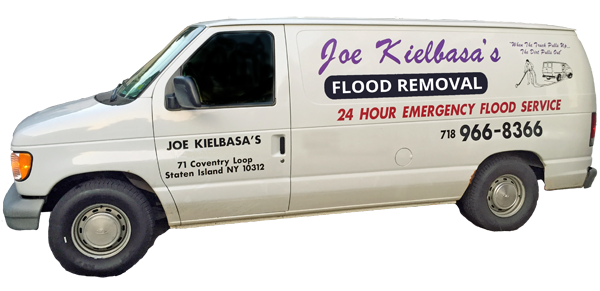 Let The Professionals Handle The Work!
We offer water extraction and water damage restoration solution for all Brooklyn. We've had customers attempt and clean up the mess on their own and all it does is result in costing more money in the end. If water damaged area is not properly dried, mold will begin to grow and can be a health hazard to you and your family. Our specialized air movers and dehumidifiers can remove the moisture from any area to ensure mold does not grow and cause costly problems.
Brooklyn, New York Water Damage Removal
This usually includes water extraction to remove the standing water, and the removal of wet components that soak up water, including carpet padding, soaked insulation, and damaged sheetrock.
A qualified water damage contractor will certainly have the proper equipment and the manpower to take care of flood water removal. Also, if you have "dirty" water from sewage backups or line breaks, sewage removal must be done to eliminate the danger of hazardous pathogens and viruses.
Water Damage Dry Out
Rapid drying with the use of dehumidifiers and air movers is vital for halting the effects of water and moisture laden air during water damage restoration. Developing super dry air via the use of dehumidifiers and directing that air with powerful air movers draws the moisture out of structural building materials, hastening their drying.
The dehumidifiers also prevent secondary damage to places that weren't originally affected by the water.
High moisture levels in the air could cause peeling paint, warped building materials, and the growth of mold perhaps even in non-flooded areas.
Drying wet building materials and removing excessive moisture from the air is very important for limiting the damage during water damage clean up after broken pipe water damage, frozen pipe water damage, leaky pipes, toilet or sink, bathtub overflow, or flood damage caused by a refrigerator, washing machine, water heater, furnace humidifier, hvac condensation unit or dishwasher.
Water Damage Repair
Once the building has been examined by a water damage specialist to ensure that it is fully dry, the materials damaged by the water damage can be repaired to get things back to normal.
Typically, a water damage removal contractor will have removed baseboards and cut the sheet-rock wall one foot up to aid in the drying of the wall cavities.
Wet carpet and padding will have been removed. Damaged sheetrock in the ceiling that may have sagged and broken from absorbing water will have to be repaired. And any materials permanently harmed from water will have to be replaced.
Leak Detection
You might even have a problem and not even realize it. Some leaks are obvious, but others are hidden above the ceiling or within walls. Water can travel quite a distance before you see signs of dampness so it can be difficult to identify the source, or even determine if it's from the roof or plumbing . And it can be a while before it's absolutely clear that you have a problem.
A small plumbing leak inside a wall can give rise to an unseen health hazard from mold (it doesn't need light) and increasing damage to your home itself. If you notice a jump in your water bill or experience musty odors or discoloration, give us a call and we'll send over a leak detection expert to check for problems and track them to their source.