Piscataway Township, New Jersey Flood Services (732) 334-6992
Are you looking to solve a flooding problem?  In Piscataway, New Jersey that's not at all unusual, but it doesn't mean that immediate professional flood damage restoration isn't critical in keeping water damage repair costs to a minimum.  Besides mold you're facing potentially extensive hidden damage that gets worse with each day.  Do-it-yourself efforts often seem enough at first, but without expertise and the right equipment you could end up with a much more expensive problem.  Joe Kielbasa's Flood Service is ready 24 hours a day 7 days a week with outstanding water damage restoration services, and can be at your Piscataway location within an hour.
Why Choose Joe Kielbasa's Flood Service?
Family owned and operated, we've been serving Piscataway and the Staten Island area for some 30 years.  You'll experience truly professional water damage restoration services with personalized attention to your situation and priorities.  Plus our 100% satisfaction guarantee
With the right insurance flood damage restoration should cost you little or nothing out of pocket.  We'll help you determine that with our initial free consultation and estimate.  That gets things rolling, and we'll handle all the paperwork for our services to save you time and bother.  We'll wait for your insurance claim payout, so there's no need for an upfront payment from you.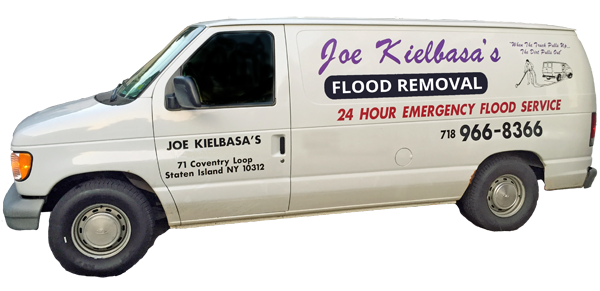 Piscataway Leak Detection & Repair
You might even have a problem and not even realize it. Many Piscataway clients have called us because they were worried about a plumbing leak that they couldn't track down.  So we now have the training and electronic instruments to pinpoint a or pipe leak without making a bunch of holes.  If you hear spraying or running water, shut of the supply at the street — we can be there in an hour or less. Learn more about our leak detection services
Piscataway, New Jersey Water Damage Removal
It doesn't take a flooded basement to need professional water damage restoration.  Anything more than a few square feet of wet carpet or other flooring lets enough water soak into the structure to cause trouble.  Mold, crumbling sheet rock, and warping wood framing can all get going in as little as 24 hours, yet with even minor flooding it can take weeks for the building to dry out.  Over that time wiring can corrode and cement weakens.  And even a small roof or plumbing leak leads to severe deterioration over time, often progressing completely unseen.
Putting a stop to all that requires skill and special equipment in order to eliminate excess moisture in days rather than weeks.  Tailored to each situation, our flood cleaning service may involve lifting carpet, forced-ventilation drying, replacing the pad, and cleaning the carpet.  For significant flooding we'll use high-performance gear (way beyond carpet cleaners) for surface water extraction not just from flooring but from walls and ceilings as well (unfortunately, soaked acoustic tile must usually be replaced).  We'll then use refrigerant dehumidifiers and other commercial-grade equipment for structural drying.  Following IICRC guidelines (https://www.iicrc.org/standards/iicrc-s500/, an ANSI standard since 2015), we'll properly test for moisture and complete a detailed assessment on the class and category of flooding to determine the best steps for dehumidifying, structural dry out, disinfection, mold remediation, and cleaning.
Piscataway Flood Damage Restoration
It doesn't take a big nor'easter to cause big problems.  Older plumbing, frozen pipes, washing machine hoses, water heaters, and natural plumbing are all common sources for water damage for Piscataway Township residents and businesses.  And after standing for a day or so all sources become health hazards, filled with germs.  So besides pump out, debris removal, and cleaning our flood damage restoration service includes disinfection as well as odor removal.
Piscataway Township Storms and Floods
Frequent flooding is a fact of life in Piscataway.  There's both outdated plumbing and new appliances ready to break down.  And way to many storms with heavy rains.  For the years 1950 through 2010 there were 1,393 significant instances of flooding within 50 miles of Piscataway — an average of 23 per year (http://www.usa.com/piscataway-nj-natural-disasters-extremes.htm).  You probably remember the 2007 disaster that lead to area homeowners and business owners qualifying for FEMA assistance.  Although there have been flood-control measures, development into wetlands has reduced the places Raritan River water has to go.  Many locals advise against finished basements, even with a sump pump.