East Brunswick, New Jersey Flood Services (732) 334-6992
Did a burst washing machine hose cause a basement flood?  A tub overflow drench the floor?  Rising floodwaters invade your East Brunswick, New Jersey home or business?  Whatever your situation our professional water damage restoration services put an end to unnecessary destruction such as mold, warped wood, and crumbling drywall.  Immediate professional flood services keep water damage repairs to a minimum, avoiding disruptions and getting things back to normal sooner.  Restoration from water originating on your own property should be covered by your homeowner or business insurance policy, and flood damage originating elsewhere from your flood coverage.  But insurers require immediate steps within the first 1 to 2 days to mitigate against secondary damage, otherwise, that part of the restoration won't qualify for coverage.  And just a few hours can make the difference in rescuing carpet versus having to replace it.  So our emergency services are on standby 24 hours a day 7 days a week to be at your East Brunswick door within an hour.
Why Choose Joe Kielbasa's Flood Service?
We accept all insurance companies, and will put together all the estimates, documentation, and other information for your insurance claim. We're familiar with their local agents and adjusters, and will bill them directly so you'll have little or no out-of-pocket payments.
Family owned and operated we're licensed, fully insured, and bonded. Starting in 1986 we've been providing personalized flood cleaning services, building over 30 years of local experience. We're East Brunswick's water damage specialists, providing free in-home estimates and 100% satisfaction guaranteed.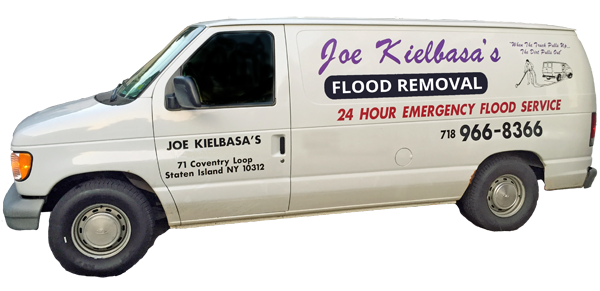 Water and Flood Damage
Whether a basement flood from an East Brunswick area downpour, burst pipes, or just a minor roof leak don't underestimate the potential for water damage, much or all of which can remain hidden for weeks or months. Water soaks in quickly, often in a matter of minutes, beneath flooring and inside walls. Deterioration can really get going in as little as 24 hours, yet without special drying equipment and expertise, it can linger for weeks deep within the structure, causing progressive destruction all that time.
By IICRC guidelines (www.iicrc.org, the non-profit international leader) anything more than a few square feet of wet carpet is likely to soon lead to problems such as
Bacteria and mold growth,
Delaminating paneling,
Crumbling drywall,
Warped and splitting wood framing, and
Weakened foundation cement.
Exposed surfaces may feel dry relatively soon, but moisture likely remains deep within the structure itself.
East Brunswick, New Jersey Water Damage Restoration
It doesn't take a flooded basement to need professional water damage restoration.  Anything more than a few square feet of wet carpet or other flooring lets enough water soak into the structure to cause trouble.  Mold, crumbling sheet rock, and warping wood framing can all get going in as little as 24 hours, yet with even minor flooding it can take weeks for the building to dry out.  Over that time wiring can corrode and cement weakens.  And even a small roof or plumbing leak leads to severe deterioration over time, often progressing completely unseen.
Putting a stop to all that requires skill and special equipment in order to eliminate excess moisture in days rather than weeks.  Tailored to each situation, our flood cleaning service may involve lifting carpet, forced-ventilation drying, replacing the pad, and cleaning the carpet.  For significant flooding we'll use high-performance gear (way beyond carpet cleaners) for surface water extraction not just from flooring but from walls and ceilings as well (unfortunately, soaked acoustic tile must usually be replaced).  We'll then use refrigerant dehumidifiers and other commercial-grade equipment for structural drying.
Flood Damage Restoration
Without professional water mitigation, insurance claims for water damage repairs may be denied. We know exactly what to do, but will double check your carrier's requirements. There are several major stages to our flood cleaning services.
Water removal by pump out, diversion, or draining
Drying building surface materials and contents with advanced water extraction equipment for floors, walls, and ceilings
Expert cleaning and disinfection
Complete structural dry out using advanced dehumidification technologies and techniques
Every East Brunswick job is a bit different — a frozen pipe within a wall, a 2nd story toilet overflow, basement water intrusion…. So we don't do standard packages or fixed pricing. We customize each project to exactly what's actually needed. Wherever dampness is hiding, we'll get rid of it before it has a chance to do much harm. That might involve simply lifting carpet, ventilating a crawl space, or skillfully deploying an arsenal of high-performance vacuum water extraction and refrigerant dehumidifier gear.
East Brunswick Flood Damage Prevention
All homes and businesses are vulnerable to plumbing and appliance failures, but older buildings with plumbing that hasn't been upgraded or inspected are particularly prone.  And the storms and flooding common in East Brunswick add to those risks. As noted by USA.com the area within 50 miles of the township see an average of over 100 "extreme weather events" each year, and some 20 of those are floods. The South River has been a nightmare to 7 East Brunswick homeowners