Edison, New Jersey Flood Services (732) 334-6992
Are you dealing with a basement flood or other water damage in Edison, New Jersey? You can count on Joe Kielbasa's Flood Service 24/7 for expert water damage removal and restoration services. When it comes to flood removal every hour counts, and do-it-yourself attempts may lead to even bigger problems. Most homeowner insurances will cover damages related to floods. We will work with your insurance adjuster and help you throughout the claim process. We'll be there right away, provide a free estimate, and get things done properly from the very start.
In business since 1986, Kielbasa's is locally family owned and provides personalized flood removal, water extraction, basement dry out and leak detection services, not "packages" with things you don't need.
24/7 service – call us and you will always talk to the owner immediately
At your door within an hour
Servicing Edison, New Jersey area since 1986
Direct insurance billing
Personalized service from beginning to end
Small, family owned company that treats you like one of our own
Free estimates
We accept cash, credit and checks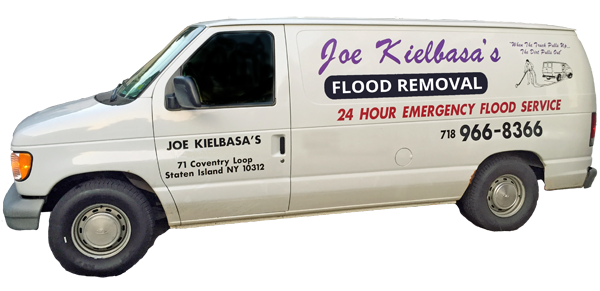 If if you have a flooded house or commercial business in Edison, New Jersey,
Joe Kielbasa's Emergency Flood Service can be on-site within an hour to help get the appropriate equipment set to dry out your walls, flooring and ceilings and completely clean up any flood water damage.
Experience Matters!
Since 1986 We Have Handled Every Kind Of Water Damage Emergency You Can Think Of Including:
Toilet / Faucet Overflows
Edison Water Damage Restoration
Joe Kielbasa's Flood Service has all the equipment, skills, and experience required for comprehensive and professional flood damage restoration.
Our flood damage control begins with high-volume pumps to promptly remove standing water so that the real work can commence.
Our team then remove as much remaining moisture as possible, as quickly as possible, to keep the time the building remains damp to an absolute minimum. Our special water extraction equipment is especially designed for flood services, extracting almost 2 times as much as shop wet-vacs or carpet cleaners.
It's often necessary to remove and discard carpet and padding (although in some cases the carpet can be salvaged), remove baseboards, and open up wall cavities.
Even after that it's still necessary to take additional measures in order to remove every last little bit of excess moisture promptly and prevent further damage. Open windows and fans just don't do enough, and cranking up the heat will in fact cause microbes to develop faster. We use specialized high-powered air movers and refrigerant dehumidifiers to wick out every last bit of excess moisture several days faster.
Our experts monitor the moisture content of various building materials and locations to be sure the job is done before proceeding to any mold removal.
Our services keep further damage and repair costs to a minimum and get your life back to normal sooner.
We'll also inspect for weak points to avoid future basement flooding, leaving your home or place of business restored to better than pre-loss condition.
Edison, New Jersey Water Damage Remediation
Water damage sets in more quickly and can become more extensive than many people realize.
Whether a basement flood from a storm, a frozen pipe, or faulty plumbing in Edison's numerous majestic but aging properties, it's vital to remove water and excess moisture as fast as possible. Even tub, sink, and toilet overflows can be a problem, with substantial mold issues commencing in just a day.
The top of the carpet may seem dry, but the padding and sub-floor underneath can continue to be damp for days and even weeks.
Damage can also stay hidden inside walls. Besides mold, water and even excess moisture can result in wood (including important structural framing) warping, splitting, and decaying. Interior drywall swells, and then disintegrates.
Even cement foundations could be weakened, and wiring corroded.
Edison Leak Detection & Repair
You might even have a problem and not even realize it.
A small plumbing leak inside a wall can give rise to an unseen health hazard from mold (it doesn't need light) and increasing damage to your home itself. If you notice a jump in your water bill or experience musty odors or discoloration, give us a call and we'll send over a leak detection expert to check for problems and track them to their source. Learn more about our leak detection services